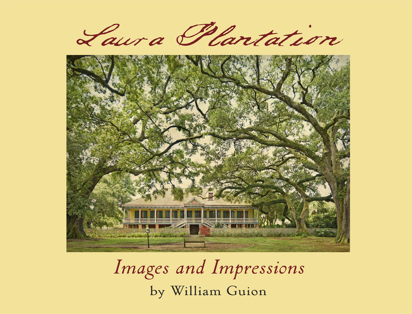 FOR IMMEDIATE RELEASE
CONTACT: The Laura Plantation Store
Laura Plantation launches new book of photos and essays
"Images and Impressions" offers a poetic vision of one of River Road's most popular plantation venues.
Vacherie, LA, USA – December 1, 2017

The story-rich tour experience at Laura Plantation has made it one of the most popular destinations for visitors to Louisiana's historic Mississippi River Road. The plantation's tours focus on the unique "Creole culture" of 19th century Louisiana as described in the memoirs of Laura Lacoul Gore, the last of four generations of her family who owned Laura Plantation. The tours and Laura's memoirs deliver a compelling and dramatic look inside 100 years of life on this Louisiana sugar plantation.
The new book, Laura Plantation–Images and Impressions, lets visitors deepen their Laura Plantation experience through photographs and personal essays by local Louisiana writer and photographer, William Guion.
"Images and Impressions was both a joy and a challenge to create," Guion says. "I rarely get the chance to combine my personal writing with my photographs in the same project. The book's content is far from a restatement of information covered in the plantation's tours. It's a separate creation that blends visual details of the plantation and grounds with my personal artistic response to each thing I photographed."
Guion, a native of south Louisiana, has worked for more than three decades as a professional writer and fine-art photographer, focusing on the landscapes and iconic live oak trees of Louisiana and California. This is his fourth book of photographs. His writings and images have appeared in numerous publications like Louisiana Life, Country Roads magazine, the Journal of the International Oak Society, the Baton Rouge Sunday Advocate, Under the Oaks magazine (the alumni publication of Newcomb College of Arts), and books like Live Oak Lore by Ethelyn Orso, Spiritual Literacy by Frederick and Mary Ann Brussat, and Folklife in Louisiana through Photography by Frank DeCaro.
In 1994, Guion met Norman Marmillion, who with his wife Sand, had just begun the extensive restoration of the Laura Plantation home and gardens. After Guion made some initial photographs of Laura's historic live oak trees, the Marmillions commissioned him to create a book of photographs of the plantation and urged him to pair his images with his personal impressions of Laura.
Sand Marmillion responded to the finished book saying, "Even though I see the plantation most every day, you've shown me a new perspective on a familiar place. You've let me see Laura through fresh eyes. I love it!"
The travel-sized book is a perfect souvenir or gift item for visitors. Copies of the hard-cover book are available through the Laura Plantations gift shop or website. For book purchase information, contact the plantation gift shop at [email protected].

For details about the book's photographs and stories, contact William Guion at bill@williamguion.com, or through his website, www.williamguion.com.
###